Polymer Clay Wall Sculptures, Brooches, Pendant Necklaces and Earrings, Commissioned Paintings, Crystal Gifts
My shop at The British Craft House is fully open, with most smaller items shipping worldwide. All jewellery and smaller wall sculptures will fit through a letterbox for contact free giving. I can post direct to the recipient and include a gift card with your message.
I was thrilled to be named by The British Polymer Clay Guild as their featured artists for January 2020. You can read about it in their newsletter here.
My latest clock is now available.
I have been trying out the new leather look polymer clay. It produces some amazing flexible, leather look effects. Here are a few of my new items using this material.
I also have a new line in Black and White pendants: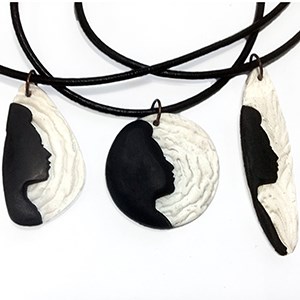 I am an artist and creator of beautiful things. Since retiring I have had time to indulge my love of arts and crafts, I have painted for many years and now have the time to paint commissions. Most of these have been painted for gifts (usually surprises) and it's so rewarding when they are received with joy and loved. You can see some examples on my commissions page. 
Seeing how Swarovski crystals catch and reflect the light I thought it would be good to use the skills I learned making jewellery to make suncatchers so I have designed some of these. They look amazing when the sun shines through creating rainbows around the room. Suncatchers are available from my Amazon Handmade Shop
My latest creations are polymer clay sculptures, I have made birds, butterflies and a dragonfly, these are all modelled on real insects for a realistic look. Please have a look also at my clocks, again modelled from polymer clay and sometimes resin. I am also making polymer clay jewellery, including brooches, necklaces and earrings. 
I hope you enjoy browsing through my web site. Please contact me if you would like further information on anything on the web site.

Please visit my shop at The British Craft House for a wide selection of polymer clay sculptures, clocks and jewellery.
Joy
Looking for a one of a kind handcrafted gift ? 
Browse through my jewellery for handmade copper, silver and gold fill necklaces, bracelets and earrings or how about a colourful wall sculpture