Bags and wallets, jewellery, wall sculptures and clocks, all handcrafted from the finest materials in my small studio in Northamptonshire.
I am an artist and creator of beautiful things. Since retiring I have had time to indulge my love of arts and crafts, I have painted for many years and now have the time to paint commissions. Most of these have been painted for gifts (usually surprises) and it's so rewarding when they are received with joy and loved. You can see some examples on my Gallery page. 
I have recently set up a small silversmithing studio, something I have wanted to do for a long time. I have been busy creating sterling silver jewellery, mostly pendants but also earrings and rings. You can see some I have for sale here.
I sell on Etsy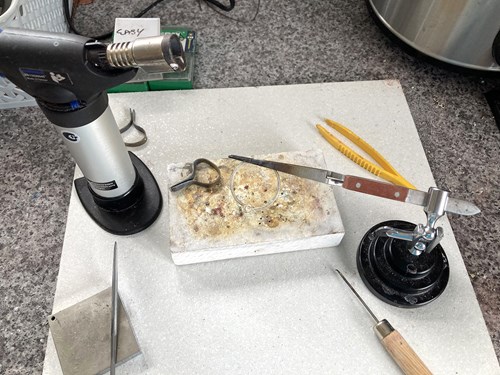 My silversmithing station
I also create polymer clay wall sculptures, I have made birds, butterflies and a dragonfly, these are all modelled on real insects for a realistic look. Please have a look also at my clocks, again modelled from polymer clay and sometimes resin. I am also making polymer clay jewellery, including brooches, necklaces and earrings. 
I was thrilled to be named by The British Polymer Clay Guild as their featured artists for January 2020. You can read about it in their newsletter here.
I hope you enjoy browsing through my web site. Please contact me if you would like further information on anything on the web site.

Joy
Looking for a one of a kind handcrafted gift ? I have a range of jewellery, from sparkling earrings and pendants to modern leather look and woven designs. For a Mum or daughter a handmade bag or wallet would be a great idea. I can send direct to your recipient with a personal gift message, just leave me a note at checkout and I will do the rest.


Contact
Email:
[email protected]
Joy Gregory Creative Studio
Manor Road, Stanion, Northamptonshire NN14 1DL