The British Polymer Clay Guild Featured Artist for January 2020
Thrilled to be named Featured Artist for January 2020 by The British Polymer Clay Guild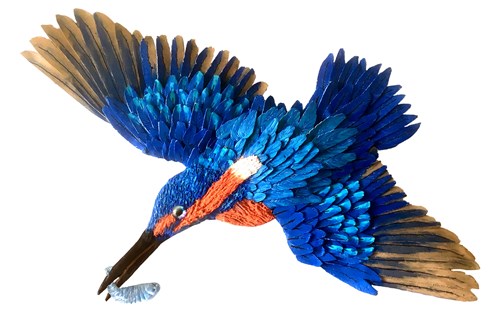 The British Polymer Clay Guild is a national organisation run by and for polymer clay artists. It was formed in 1997 and is a great source of information and friendship for polymer clay artists. It includes among its members artists from the UK and Ireland who work in may different areas, reflecting the versatility of the medium, from jewellery makers, miniaturists, sculptors, doll makers and others. There are professionals, amateurs and hobbyists.
The Guild runs monthly 'play days' around the country. These allow those working in this medium to meet up, exchanging ideas, learning new techniques and generally having fun for a day. I can usually be found at the village hall in Hanslope once a month, where the South Midlands branch has their monthly play day. I have learned so much from these sessions, especially from Fiona Abel-Smith who is an amazing artist, both as a painter and in polymer clay, she gives demonstrations and has many You Tube videos, well worth looking up to see some of the things she can do with this medium. You can find out more about the Guild here
So I was especially pleased to be named by the Guild as Featured Artist for January. I met Lisa, who is the president of the Guild, on the stand of the Craft Show at the NEC last November, when they showed some of my work. The stand is all about letting people know of this versatile medium and what can be done with it. 
The Guild's newsletter for January is here
You can see more of my polymer clay sculptures work in the Gallery
Add a Comment
Please enter your comment below then click the "Add Comment".
Contact
Email:
[email protected]
Joy Gregory Creative Studio
Manor Road, Stanion, Northamptonshire NN14 1DL