If you have browsed through my jewellery shop or looked for handmade jewellery online you may have come across gold filled pendants, bracelets or earrings and wondered what on earth is gold filled jewellery ? Is it real jewellery or even real gold ? Is it the same as gold plated?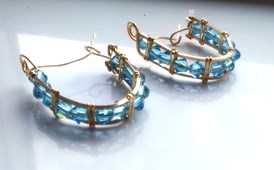 Gold Filled Blue Crystal Earrings
So what is gold filled?
You will usually find it as 14k gold filled wire which is 5% of 14K gold pressure bonded to a base metal.
Is it the same as gold plated?
No, gold plated is made using electroplating to lay down a very thin, practically microscopic, film of pure gold on a base metal. The plating will wear off over time and cause the jewellery to tarnish and show the base metal. Gold filled has a much thicker layer of pure gold (5-10 times thicker than electroplated)) which makes it much more hardwearing and longer lasting than gold-plated.
How durable is gold filled jewellery?
The finish on gold filled jewellery can last up to five years with heavy use, e.g. wearing every day and will last 10 to 30 with lighter use. 
I am sensitive to nickel. Can I still wear gold filled jewellery ?
Yes you can, it has no nickel content and is considered hypoallergenic. It won't tarnish or discolour your skin.
Does it look as good as gold ?
Yes, it has the same high-end appearance as gold.
Any other advantages?
Gold filled jewellery looks as good as carat gold, is hard wearing and will last a long time and best of all it's a fraction of the cost of real gold. What's not to like?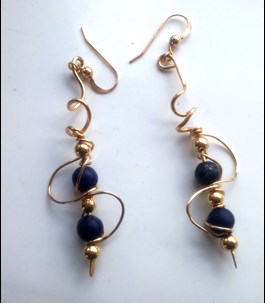 14k Gold Filled wire wrapped lapis lazuli 
earrings.
What do you think ? Would you wear gold filled jewellery or would you hold out for pure carat gold ?